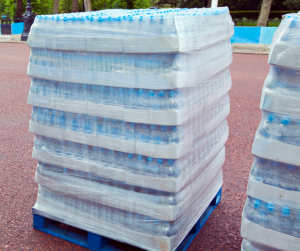 The 2021 fire season is extraordinary with unprecedented heat and fire conditions in our forests, and infernos raging across the West have left vital firefighting resources in short supply. Unfortunately, the continuing outlook this summer for fire is bleak. But there is an extraordinary bright spot on the horizon: the willingness of Idahoans to pitch in during times of need. This is a time of need, and we need your help.
Donate Water and Sports Drinks
Bottled water and sports drinks are in short supply and both are crucial for ensuring fire crews remain hydrated, so they can safely suppress fires. We are seeking pallet-quantity donations of both bottled water and sports drinks with electrolytes. If you work for a business or belong to a community organization that can donate a pallet or more of these products, please reach out to us.
If you are an individual who wants to help, we encourage you to work with your church, clubs you may belong to, or local service organizations to organize water and sports drink drives, with the goal of collecting pallet-level quantities of these products. Logistically, it will be very helpful if your organization or business can also arrange to deliver the pallets to our Fire Cache in Coeur d'Alene – trucks and drivers are in short supply, too.
A typical pallet will hold about 80 cases of water. If your organization collects water or sports drinks, we can provide you with a pallet and stretch wrap for packaging the donation when you deliver it to the cache.
Let Us Borrow Your Refrigerator Truck
Refrigerator trucks are in short supply. If you or your company has a refrigerator truck or trailer sitting unused, we can put it to good work. We need refrigerator trucks to pick up ice in the Coeur d'Alene area and deliver it to fire camps.
Other Donations Like Food
At this time, unfortunately we are not equipped to handle the logistics of accepting and distributing food donations to firefighting personnel. However, like delivering ice, we do need additional refrigerator trucks to deliver existing fresh food stocks from the Fire Cache to the catering firms that prepare meals for firefighters at fire camps.
Another Great Way to Help
If you still want to help, but live outside the Coeur d'Alene area or are unable to partner with a local organization, we ask that you please make a monetary donation to the Wildland Firefighter Foundation. The foundation's main focus is to help families of firefighters killed in the line of duty and to assist injured firefighters and their families. They help state, local and federal firefighters, contract firefighters, and volunteers from rural communities and towns across the United States. To our IDL family, the Wildland Firefighter Foundation is a like a trusted friend you can always count on in a time of need. That's why we encourage you to make a tax deductible monetary donation to the foundation. Every donation makes a difference!
How to Donate
After you scroll through and answer the questions on this form, click Submit near the bottom. Your message will be delivered to our Fire Procurement team, and one of our teammates will contact you. You are also welcome to call our office at 208-334-0294 to let us know you want to help.