Every Idahoan Benefits From Endowment Land
If you went to public school in Idaho, endowment land helped fund your education. Those lands are funding schools today. If you pay taxes in Idaho, the amount is decreased because of endowment land revenue. If you or someone you know works in the timber industry, those workers – as well as the greater economy – have benefited from endowment lands. Many people also enjoy managed camping and trail use on these lands.
History and Legal Background
When Idaho became a state, Congress granted Idaho endowment trust land for the sole purpose of funding specified beneficiaries, which are largely public schools. How the State Board of Land Commissioners (Land Board) must manage these lands is also written in the Idaho Constitution. Article IX, Section VIII mandates that they will be managed "…in such manner as will secure the maximum long-term financial return to the institution to which [it is] granted."
How Endowment Land Generates Revenue
Under the direction of the Land Board, we generate revenue from endowment lands through timber sales, as well as by leasing the lands for grazing, farming, conservation leasing, communication sites, recreation, residential/commercial real estate, minerals, and more. The Idaho Department of Lands is the administrative arm of the Land Board charged with the day-to-day management of these lands.
Undivided Loyalty
Endowment lands impact all of us in one way or another. But it's the beneficiaries that have our undivided loyalty. This loyalty is core to the constitutional purpose of endowment lands. No matter how desirable some competing interests may be, we are constitutionally bound not to be swayed by anything that is not in the best long-term financial interest of the beneficiaries. Given our long-term land management mission, we also understand that improving the ecological condition of the lands we manage improves the bottom line for our beneficiaries.
Public Perception
In a letter dated 1969 to then Governor Don Samuelson, land commissioner Gordon Trombley explained how a general misunderstanding about endowment lands creates management challenges. This is a challenge that impacts the management of endowment lands to this day.
Evidence strongly suggests a lack of public knowledge and understanding of the term "state lands." These lands are, at times, referred to as, "public lands," "grant lands," "school lands," "endowment lands," etc. Irregardless of the term used to describe them, there appears to be a general misconception as to how they were acquired, their purpose and dedication, and their disposition.

Gordon Trombley, Land Commissioner
Endowment Land Beneficiaries
Idaho's public schools
Idaho School for the Deaf and Blind
University of Idaho
Idaho State University
Lewis-Clark State College
State hospitals for the mentally ill
State veterans homes
Capitol Commission
State correctional system
---
Learn More
---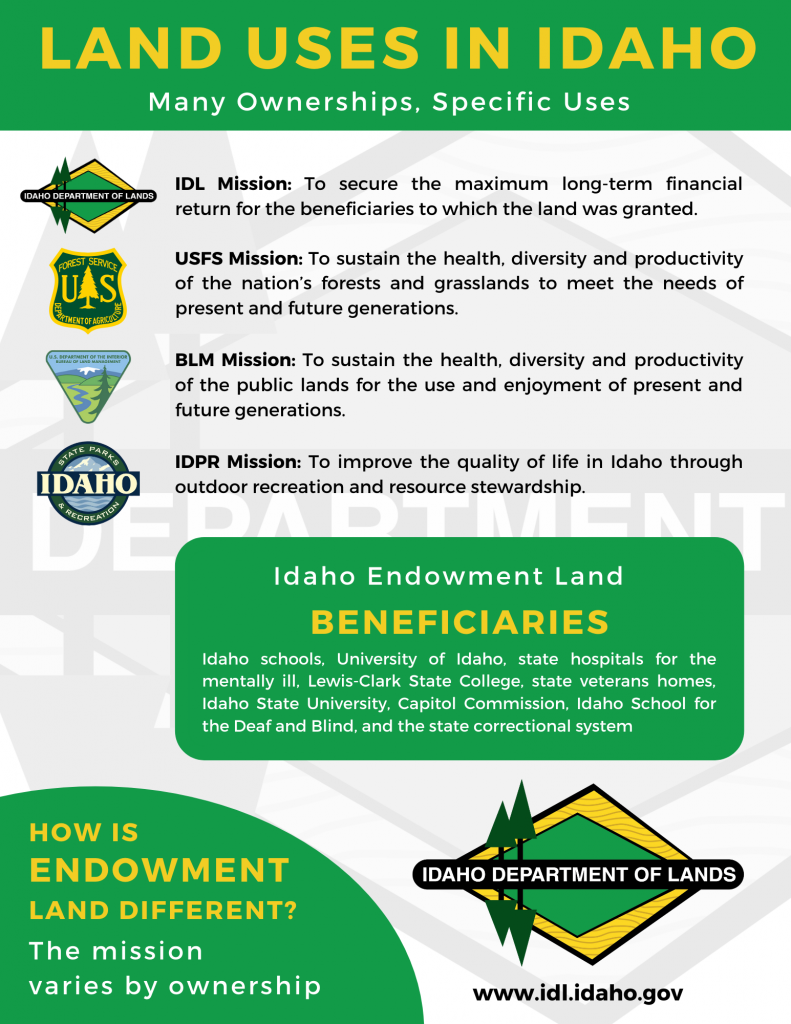 ---
Watch What We Do in Our Annual Review Video
Different Managers Have Different Missions
If you've lived in the west, you've likely heard land managed by the United States Forest Service or the Bureau of Land Management described as "land of many uses." Endowment land is different. As required by Idaho's constitution, it must be used to generate the maximum long-term financial return to the beneficiaries to which it was granted. For endowment land, any use besides generating revenue is secondary because the Land Board, in its capacity as a trustee, must act with undivided loyalty in the interest of the beneficiary.
To help illustrate how endowment land is different, here's a comparison of the missions of government land managers with significant acreage in Idaho:
| | |
| --- | --- |
| | Idaho Department of Lands: To secure the maximum long-term financial return for the beneficiaries to which the endowment land was granted. |
| | United States Forest Service: To sustain the health, diversity and productivity of the nation's forests and grasslands to meet the needs of present and future generations. |
| | Bureau of Land Management: To sustain the health, diversity and productivity of public lands for the use and enjoyment of present and future generations. |
| | Idaho Department of Parks and Recreation: To improve the quality of life in Idaho through outdoor recreation and resource stewardship. |