Idaho's Forest Legacy Program (FLP) recognizes that to protect forest values and the benefits of forested lands to society, it is first necessary to maintain those lands as forests. Idaho's privately-owned forestlands are becoming increasingly valuable and sought after for purposes other than their traditional uses. Unfortunately, the inevitable development of this land threatens all that makes it attractive, including sustained wildlife, scenic and timber values. Idaho's FLP is a tool that can reconcile the desire of private landowners to capture the value of their lands without destroying the underlying benefits that those forests provide.
Please help your friends learn more about our mission by sharing this page on social media!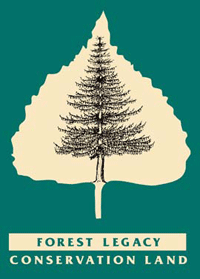 FLP is a voluntary program that, through the purchase of conservation easements, operates on the "willing buyer, willing seller" principle. Lands covered by a FLP conservation easement stay in private ownership and continue to be managed for traditional uses such as forest management.
The FLP provides funding to Idaho to purchase conservation easements on private lands that might otherwise be developed and lost as forests. The program is voluntary and will include only those private landowners who wish to sell development rights to their lands. 
For those landowners, participation in the program allows them to capture the development value of their land, while assuring it will remain as forestland forever. 
Acres open to public recreation
Acres of conservation purchases
Acres of donated easements
Forest Legacy Program Success Stories
Hall Mountain-Kootenai Valley
The project builds on two decades of conservation work to conserve nearly 80,000 acrews within 25 miles of the project lands. The project is a successful demonstration of the value of collaboration.
The Story Behind McArthur Lake
A major conservation achievement between the Idaho Department of Lands and three timber companies to create 18,800 acres of open space with guaranteed public access through our Forest Legacy Program.
Western Forestry Leadership Coalition
In cooperation with western state forestry agencies and the Forest Service, the coalition developed a publication to highlight the benefits of Forest Legacy Programs across the western states.
Frequently Asked Questions
Lacy Robinson
Forest Legacy Program Coordinator 
Idaho Department of Lands 
2550 Highway 2 West, Sandpoint, Idaho 
Cell: (208) 610-3010 
LRobinson@idl.idaho.gov