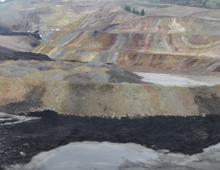 Mining has played an important role in Idaho's history. The discovery of gold resulted in the establishment of the Idaho territory in 1863. Mining in Idaho provides jobs and materials that are important to the economy. An important part of the modern mining industry is to demonstrate that successful reclamation to a productive post-mining land use will occur after the completion of mining.
Regulatory Oversight
To ensure responsible mining in Idaho, the citizens of Idaho passed the Idaho Dredge and Placer Mining Protection Act by voter initiative in 1953, and the Idaho Legislature passed the Mined Land Reclamation Act in 1971. The IDL is responsible for administering both laws. Regulatory oversight serves as the catalyst to promote effective, environmentally responsible mining. The IDL is responsible for overseeing 1,567 active mines and 28 active dredge and placer operations. To regulate all 1,595 mining permits, IDL divides Idaho into five mineral zones based on staffing availability.
Best Mining Practices in Sage-Grouse Habitat
Best Management Practices, commonly referred to as BMPs, are a suite of techniques that guide or may be applied to management actions to aid in achieving desired outcomes for protecting sage-grouse habitat. For more information on sage-grouse BMPs, please view the Mining Operations and Greater Sage-Grouse FAQ and BMPs.
Best Management Practices for Mining in Idaho
Download Complete Document