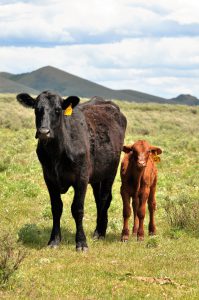 The IDL manages 1,127 grazing leases that cover 1,758,213 acres of endowment land located primarily across the southern two-thirds of Idaho. These leases contributed an estimated 258,315 animal unit months (AUM) of forage to livestock operations in FY19. In addition, IDL administers a portfolio of farming and conservation leases that total approximately 46,782 acres. Crops grown on endowment lands include alfalfa hay, barley, beans, corn, potatoes, safflower, wheat and organic crops. Portions of agricultural endowment lands are managed within the USDA Conservation Reserve Program (CRP). Conservation leases are also administered on state endowment trust land for recreation, big game, and wildlife habitat in conjunction with Wildlife Management Areas.
Grazing Program Business Plan
Final Grazing Program Business Plan – May 2015
Lease Opportunities
See what is available and when on our Grazing, Farming and Conservation Leasing page, as well as an interactive map.
Interactive Grazing Allotment Map
IDL has developed an interactive map tool showing the locations of known grazing allotments and land ownership in the State of Idaho. Read the instructions on using the application.
Grazing Rate Formula Review
IDL is in the process of reviewing the grazing program.
October 22, 2020 update: Read the completed University of Wyoming study regarding non-fee grazing costs of IDL leases. This study has some limitations, but will provide some information used by the IDL to continue review of the grazing rate. Per direction by the Land Board, the IDL is synthesizing available data regarding the grazing rate and will present a new rate to the Land Board no later than July, 2021. For more information, please see the 2021 Grazing Rate.
IDL routinely evaluates management strategies for all endowment trust land assets in order to ensure the Land Board is meeting a constitutional mandate to maximize long-term financial returns on the use of the land.
IDL is focused on moving forward with a review of the IDL Grazing Lease Rate Formula.
IDL invites and encourages strong stakeholder participation in the review process.
Update (1/21/2020): Per the August 21, 2018 Land Board Meeting, the non-fee grazing cost study has been initiated with the University of Wyoming. Results from that study are expected in April 2020 and will be reviewed by the Department and the Land Board at that time.
UPDATE (8/21/18): During its August 21, 2018, regular meeting, the Land Board discussed the Grazing Rate Methodology Review agenda item. One topic of discussion, related to the existing state grazing rate formula and alternatives previously presented by the Grazing Subcommittee, was clarity regarding non-fee costs potentially incurred by state grazing lessees on state endowment trust lands versus private land grazing leases. The Land Board voted 4-1 to continue using the current Status Quo formula until a comprehensive, up-to-date third-party study is completed on the subject of non-fee grazing costs incurred by lessees on federal public or state trust lands versus private lands.
UPDATE (12/22/17): On December 5, 2017 the State Board of Land Commissioners held a special meeting to discuss the grazing rate review and alternatives presented by the Grazing Subcommittee. During this meeting, the Land Board voted 5-0 to put off a decision on the grazing rate methodology to allow further consideration of information regarding the alternatives. Updates will be posted as the information becomes available.
– 12/5/2017 Land Board Memo
UPDATE (11/20/17): The Evaluation of Final Alternatives for Deriving Fair Market Grazing Value on Idaho State Endowment Trust Lands, by the University of Idaho Policy Analysis Group, is now available for download.
Supporting Documents:
Grazing Rate Review Analysis Addendum (Addition of Montana Model, Alternative #5)
Contacts
For questions specific to a location, or to obtain a lease application, contact one of the 10 Supervisory Areas
For statewide programmatic questions:
Jason Laney, Program Manager
jlaney@idl.idaho.gov
(208) 334-0278
Ryan Montoya, Bureau Chief
rmontoya@idl.idaho.gov
(208) 334-0221
---
Forms and Documents
Affidavit of Loss
2021 Grazing Rate
2020 Grazing Rate
Make Payment
Change of Address Notification
---
Life on the Range
Life on the Range is an educational project that showcases stories about the ever-changing landscape of ranching, multiple-use management, entrepreneurial spirit, family and stewardship on Idaho's rangelands.
Visit Life on the Range for a fantastic series of videos showcasing the diversity of Idaho's rangeland.