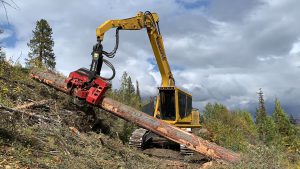 This page is for forest landowners, logging contractors and logging operators. Governor Brad Little has identified the forest products industry as an essential service during COVID-19 and we want to do all we can to support your activities. Our customers can use e-mail or phone contact for this process, as well as access the form online.
New Procedures
Procedures for gaining a Compliance/Notification (a.k.a. "slash" or "brush" form) have changed. The Forestry and Fire Division has implemented this page to facilitate obtaining a "Certificate of Compliance – Fire Hazard Management Agreement Notification of Forest Practice" for conducting timber harvests.
IDL staff will place information from the completed worksheet into IDL records, then e-mail the compliance back to the client, typically a logging contractor and logging operator, to sign and email back to the appropriate IDL Supervisory Area, Fire Protective District or Timber Protective Association office.
Contact
Program Contacts
Gary Hess
Forest Practices Program Manager
ghess@idl.idaho.gov
Scott Hayes
Deputy Chief, Plans
shayes@idl.idaho.gov
Offices
IDL Supervisory Areas or Fire Districts
Clearwater-Potlatch Timber Protective Association
10250 Highway 12
Orofino, Idaho
83544
(208) 476-5612
Southern Idaho Timber Protective Association 555 Dienhard Lane
McCall, Idaho 83638
(208) 634-2268
---
Forestry News
January 15, 2021
Thousands of trees burned in Woodhead Fire harvested quickly to help fund Idaho schools
December 21, 2020
$52.5 million endowment lands and fund distribution to Idaho Schools
December 16, 2020
Douglas-fir tussock moth subsides in southern Idaho, new outbreak discovered in northern Idaho
November 30, 2020
IDL seeks nominations for positions on Forest Practices Advisory Committee, sets date for next meeting
November 18, 2020
IDL GIS and Remote Sensing staff selected for the 2020 ESRI Special Achievement in GIS award
---
Upcoming Events
There are no upcoming events scheduled at this time.