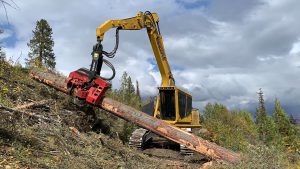 This page is for forest landowners, logging contractors and logging operators. Governor Brad Little has identified the forest products industry as an essential service during COVID-19 and we want to do all we can to support your activities. Our customers can use e-mail or phone contact for this process, as well as access the form online.
New Procedures
Procedures for gaining a Compliance/Notification (a.k.a. "slash" or "brush" form) have changed. The Forestry and Fire Division has implemented this page to facilitate obtaining a "Certificate of Compliance – Fire Hazard Management Agreement Notification of Forest Practice" for conducting timber harvests.
IDL staff will place information from the completed worksheet into IDL records, then e-mail the compliance back to the client, typically a logging contractor and logging operator, to sign and email back to the appropriate IDL Supervisory Area, Fire Protective District or Timber Protective Association office.