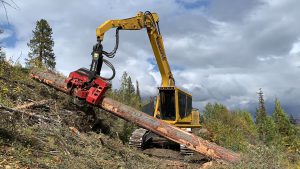 This page is for forest landowners, logging contractors and logging operators. Governor Brad Little has identified the forest products industry as an essential service during COVID-19 and we want to do all we can to support your activities. Our customers can use e-mail or phone contact for this process, as well as access the form online.
New Procedures
Procedures for gaining a Compliance/Notification (a.k.a. "slash" or "brush" form) have changed. The Forestry and Fire Division has implemented this page to facilitate obtaining a "Certificate of Compliance – Fire Hazard Management Agreement Notification of Forest Practice" for conducting timber harvests.
IDL staff will place information from the completed worksheet into IDL records, then e-mail the compliance back to the client, typically a logging contractor and logging operator, to sign and email back to the appropriate IDL Supervisory Area, Fire Protective District or Timber Protective Association office.
Contact
Program Contacts
Gary Hess
Forest Practices Program Manager
ghess@idl.idaho.gov
Scott Hayes
Deputy Chief, Plans
shayes@idl.idaho.gov
Offices
IDL Supervisory Areas or Fire Districts
Clearwater-Potlatch Timber Protective Association
10250 Highway 12
Orofino, Idaho
83544
(208) 476-5612
Southern Idaho Timber Protective Association 555 Dienhard Lane
McCall, Idaho 83638
(208) 634-2268
---
Forestry News
July 23, 2020
Director Miller Addresses McCall Endowment Land
July 17, 2020
Pause on new leases, land sales and exchanges in McCall continues; Land Board will discuss Idaho Department of Lands study of the area July 21
June 15, 2020
More accurate forest inventory methods to increase harvest of trees before they are vulnerable to insects, disease, and wildfire
June 5, 2020
Public reminded to be aware of logging operations around Bogus Basin
May 27, 2020
Lobbies reopen across the state; support of natural resource-based businesses successfully maintained
---
Upcoming Events
There are no upcoming events scheduled at this time.