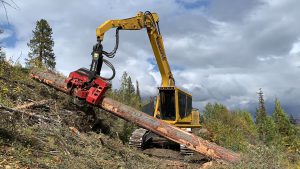 This page is for forest landowners, logging contractors and logging operators. Governor Brad Little has identified the forest products industry as an essential service and we want to do all we can to support your activities in this area. Right now, IDL offices are closed to the public due to COVID-19, so we appreciate our customers using e-mail or phone contact for this process and accessing the form online.
New Procedures
Procedures for gaining a Compliance/Notification (a.k.a. "slash" or "brush" form) have changed. The Forestry and Fire Division has implemented this page to facilitate obtaining a "Certificate of Compliance – Fire Hazard Management Agreement Notification of Forest Practice" for conducting timber harvests.
IDL staff will place information from the completed worksheet into IDL records, then e-mail the compliance back to the client, typically a logging contractor and logging operator, to sign and email back to the appropriate IDL Supervisory Area, Fire Protective District or Timber Protective Association office.