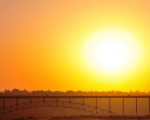 Alternative energy is the production of electricity that is generated without depleting natural resources like coal, oil or natural gas. A solar farm is one example. The Idaho Department of Lands is interested in alternative energy projects that focus on wind, solar, and geothermal sources.
Leasing Opportunties
Step-by-Step Guide for Alternative Energy Leasing
Finding Land
Review our Idaho endowment land map for sites that meet your project needs.
Having trouble finding real estate with the right attributes? Contact Josh Purkiss to discuss potential sites for alternative energy development.
Alternative Leasing Process
Proponent submits application.
Idaho Department of Lands reviews the application.
Upon approval of an application, a request for proposal is developed and advertised to determine if there are any other interested parties.
The application that is in the best interest of the endowment beneficiaries is selected.
A lease agreement is developed with the successful applicant.
The lease is offered for auction.
If more than one application is received, the parties bid at a live public auction.