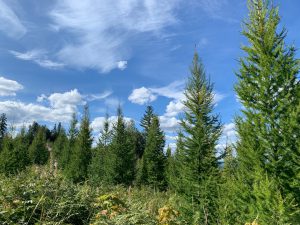 There is a continued need to evaluate and discuss the future of endowment lands within and immediately outside of the City of McCall's growth and impact areas. While timber harvesting and cottage site leases and sales have been the most visible endowment land management approaches in McCall, new opportunities to generate income for the endowment beneficiaries are being considered. You will find the latest information, dates, and project proposals on this page.
Payette Endowment Lands Strategy (PELS) – Focus Group Meetings
The Idaho Department of Lands has organized a Payette Endowment Lands Strategy (PELS) Focus Group. This group will help the department review potential short, mid and long-term strategies designed to maximize revenue generated by endowment land located within McCall's area of impact.
Next Meeting
Thursday, February 25, 2021 from 1 to 4 p.m. MT
You are invited to join the Zoom webinar!
Topic: Payette Endowment Lands Strategy – Focus Group – Meeting #3
Register in advance for this webinar:
https://idl.zoom.us/webinar/register/WN_E6gPMe02St6n8_-wjJrLFQ
After registering, you will receive a confirmation email containing information about joining the webinar.
PELS Focus Group Meeting Agenda Feb. 25, 2021
Previous Meetings
What is endowment land?
At statehood, Congress granted Idaho endowment trust land for the sole purpose of funding specified beneficiaries, which are largely public schools. How the Land Board must manage these lands is also written in the Idaho Constitution. Article IX, Section VIII mandates that they will be managed "…in such manner as will secure the maximum long-term financial return to the institution to which [it is] granted."
Different Managers Have Different Missions
If you've lived in the west, you've likely heard land managed by the United States Forest Service or the Bureau of Land Management described as "land of many uses." Endowment land is different.
Contact
Sid Anderson
Program Manager
Real Estate Services
(208) 334-0279
asanderson@idl.idaho.gov
Scott Corkill
Area Manager
Payette Lakes Supervisory Area
(208) 634-7125
scorkill@idl.idaho.gov
---
Public Comment
A department finalization of the plan and presentation to the Land Board is not expected until late winter/early spring 2021. If you have general comments or specific recommendations or thoughts for the plan, please let us know. The comment period is December 15, 2020 through March 1, 2021. All comments submitted by this date will be included in the Land Board memo for March 2021.
---
Comments Received
Written comments received by Idaho Department of Lands to date are combined in the PDF below and are listed chronologically, oldest to newest:
2020-1121 through 2021-0202
2021-0203 through 2021-0209
2021-0210 through 2021-0217
2021-0218 through 2021-0224
---
Related Pages
---
Draft Proposal
The final draft, which will include input from public comments, is planned for presentation to the
State Board of Land Commissioners in March 2021.
The plan discusses transition lands in a community context that require long-range evaluation.
Immediate management decisions needed in the context of long-term community and market contexts.
A phased approached that would allow revenue generation today, while considering potential future opportunities and trends.