Humans, not lightning, were responsible for starting almost 80% of Idaho wildfires in 2018. The cause of these wildfires varies across the state; escaped debris burning was one of the more prevalent causes. The period from May 10 through October 20 of each year is the closed fire season in Idaho and a burn permit is required for any burning. If you have questions about fire prevention, how you can make your home a fire safe one, or about safe burning practices contact your local Area or District Office.
Burn Permits
The fire safety burn permit from IDL is required for any burning (excluding recreational campfires) outside of city limits during closed fire season between May 10 and October 20.
Burn Permits Tutorial
Fire Restrictions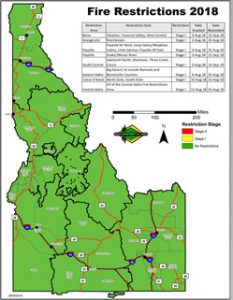 During the fire season there may be times when fire managers find it necessary to implement fire restrictions to limit the further occurrence of human-caused fires. At that time notification will be made to the public so that you can make appropriate arrangements for your outdoor activities. A map, similar to the one below, will be updated to provide visual reference to those Fire Restriction Areas that have implemented restrictions and when those restrictions have been rescinded.
Contact
Jennifer Russell
Fire Prevention, Education & Outreach Specialist
(208) 666-8685
jrussell@idl.idaho.gov
---
Related Pages
---
Helpful Information
---