click for an interactive map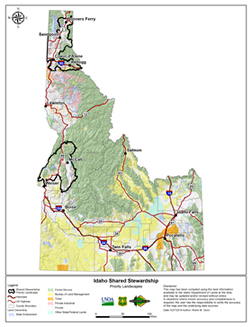 With over 6 million acres of Idaho's forestlands designated as "high risk" for insect and disease outbreaks and potential catastrophic wildfire, Idaho's Shared Stewardship efforts emerged as a result of collaboration between the State of Idaho and the USDA Forest Service–analyzing how the focus of federal and state resources on critically needed treatments can impact at-risk forestlands extending from the national forests across all ownership boundaries. This collaboration is memorialized in
an agreement
signed on December 18, 2018, and aligns with the
USDA's Shared Stewardship Initiative
goals.
Using advanced scientific tools and spatial analyses, Shared Stewardship priority landscapes have been defined that demonstrate where resources can be directed to make a bigger impact on protecting communities and mitigating these threats to Idaho's forests. The decision to define the two initial Shared Stewardship priority landscapes, one in northern Idaho and one in the southern part of the state, was informed by 1) a forestland threats analysis described in the Idaho Forest Action Plan, and 2) a spatial assessment showing recent and future forest treatments across the state. The selected landscapes were then analyzed by exploring trade-offs between and progress towards meeting identified priorities and targets from modeled scenarios developed by the Forest Service Rocky Mountain Research Station as part of the Scenario Investment Planning Project (SIPP).
---
Idaho Forest Action Plan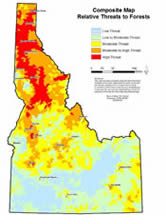 The Idaho Forest Action Plan (FAP) was developed by the Idaho Department of Lands with many other agencies and organizations. Its main purpose is to ensure that federal and state resources are focused on landscape areas with the greatest opportunity to address shared priorities. The FAP Resource Assessment provides a geospatial analysis of conditions and trends for all forested lands in Idaho. The Resource Strategy identifies strategies for addressing the threats and benefits defined in the geospatial assessment. The Idaho FAP, first developed in 2010, has been updated and revised—resulting in Idaho's new 2020 Forest Action Plan. Idaho's Shared Stewardship Priority Landscapes were based primarily on the geospatial threats analyses in the FAP Resource Assessment.
---
Scenario Investment Planning Project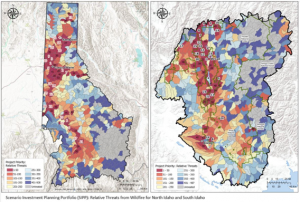 The Forest Service has developed a tool that combines national or state condition assessments (for example, wildfire transmission to communities, potential harvest volume) with management activities to simulate short-range (1-5 yrs) alternative prioritization and investment strategies. The system simulates the implementation of specific priorities and examines the achievement rates of specific outcomes such as the reduction in wildfire risk to communities. The tool allows planners to quickly examine how shifting investment strategies affect outputs and outcomes on the ground.