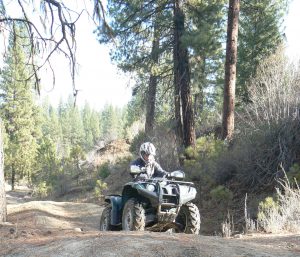 Idaho has a history of providing abundant recreational opportunities and access on endowment lands. Idahoans enjoy public access on nearly all legally accessible endowment lands around the state with very few, if any, limitations in most places. In general, endowment trust lands are more scattered in the southern half of the state and more grouped together in the north.
Recreate Responsibly Idaho is a new campaign that offers guidelines for Idahoans who want to recreate outdoors. Information about outdoor recreation opportunities and other information is available at
https://coronavirus.idaho.gov/recreate-responsibly/.
All of us must work to keep Idaho safe for recreation during the COVID-19 economic recovery. We ask that you also help keep Idaho Endowment Land open for recreation by joining us in being trusted stewards of our natural resources. Please read through our policies for more information.
Trail Systems
IDL is working on creating designated trail systems and restoration projects to guide recreation. Following trail signs and honoring closures protects valuable endowment land from damage, and helps ensure future public access. IDL land managers may temporarily close areas as needed to enable the effective operation of revenue generating activities and to protect the public.
Recreation Policy
Recreation Maps