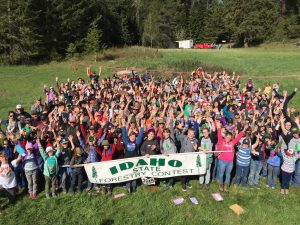 The annual contest introduces students in grades 5 through 12 to basic forestry and resource management skills. The contest is always held the second Thursday in May and is sponsored by the Idaho Department of Lands, Bonner Soil and Water Conservation District, U.S. Forest Service, and Natural Resources Conservation Service (NRCS). More than 250 volunteers donate their time to help run the contest and a record 700 students participated in 2019.
Contact
Karen Robinson
Private Forestry Specialist
Sandpoint Office
(208) 263-5104
krobinson@idl.idaho.gov
Media Contact
Karen Neorr
Forest Legacy Program Coordinator
Sandpoint Office
(208) 263-5104, ext. 5120
kneorr@idl.idaho.gov
---
Forestry Contest News
The 38th Annual Idaho State Forestry Contest scheduled for Thursday, May 14, 2020 has been canceled due to the COVID-19 crisis.
News Release: 2019 State Forestry Contest Results
---
Newsletters
---
Other Contacts
U.S. Forest Service
(208) 263-5111
Bonner Soil & Water Conservation District
(208) 263-5310 ext.100
Natural Resources Conservation Service
(208) 378-5700