Fire Crews Make Progress on Too Kush Fires
Saturday July 3, 2021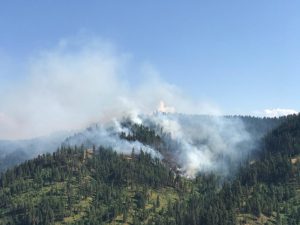 (Kooskia, Idaho) – The Too Kush 2 Fire has enveloped the Too Kush Fire and is continuing to burn upriver of Kooskia, Idaho, on Nez Perce Tribal land and Idaho Department of Lands timber land in Idaho County. However, Idaho Department of Lands firefighters, engines, and other equipment have made good progress toward suppression. Yesterday, aggressive actions by IDL ground crews, engines, two dozers, four air tankers (SEATS) and two helicopters (one heavy, one light) kept both fires from growing. By this morning, 20 IDL firefighters and two bulldozers had constructed fire line around 50 percent of the blazes. Today, 20 IDL firefighters, a 20-person contract crew, 4 engines, and a water tanker completed building fireline around 80 percent of the blaze.
The Too Kush 2 Fire has now been determined to be 30 acres in size, due to accurate GPS assessment rather that visual estimation.  No structures are threatened, and no evacuations or road closures are in place.
Fire managers are very concerned about the shortage of firefighting resources available due to abnormally hot, dry conditions in the region leading to many more fires than usual for July. They are encouraging everyone to be extremely careful when recreating outdoors.  Please remember that using fireworks anywhere on public lands is illegal, and consider attending community fireworks displays rather than setting off fireworks at home.
# # #
FIRE MAP: https://www.idl.idaho.gov/wp-content/uploads/sites/2/2021/04/Too-Kush-2-Fire-Map.pdf
CONTACT:
Karen Robinson
208-334-0233, fireinformation@idl.idaho.gov
About IDL Fire: Idaho Department of Lands Fire Management (IDL Fire) in partnership with two Timber Protection Associations and with the support of rural volunteer fire departments and other partners, are responsible for fire suppression and prevention on more than 6 million acres of state and private forests and rangelands in Idaho. IDL Fire focuses on initial attack with the goal of keeping fires at 10 acres or less. IDL Fire protects and preserves important endowment timber assets that help fund Idaho schools and other beneficiaries, as well as millions of acres of private forestland. The map below shows the different Forest Protection Districts in Idaho.