New Kiosks Enhance Winter Access Information in Boundary County
Monday November 13, 2023
Bonners Ferry, ID - Idaho Department of Lands (IDL) and Idaho Parks and Recreation (IDPR) teamed up to build and install kiosks in North Idaho to post information on winter access on endowment lands.
IDL's recreation program manager, IDPR's North Idaho trails specialist and the trail cat operator collaborated on the kiosks that were installed in the Fall Creek and Ruby Creek areas of Boundary County.
Providing clear guidance to winter recreationists in this region is challenging given its checkerboard of land ownerships. The area includes endowment land and private timber land managed by Stimson Lumber and Manulife Forest Management.
The three (3) kiosks have been meticulously constructed and installed, serving as essential waypoints for outdoor enthusiasts. These kiosks will play a pivotal role in informing the public about how to retain winter access, crucial in an area with such diverse land ownership.
Each kiosk features an information poster and a map equipped with a convenient QR code. This technology allows recreationists to easily download an up-to-date map directly to their smartphones. Popular applications like Avenza Maps can further enhance the experience by providing real-time location tracking with a distinctive blue dot.
The initiative represents a concerted effort by IDL, private timber companies and Boundary County to empower recreationists with the information needed to make well-informed decisions. By focusing on educating the public about responsible over snow use and providing details on groomed routes and boondocking opportunities, the partners aim to mitigate unintended damage to the valuable timber lands in the area.
"This collaborative project exemplifies the dedication of IDL to strike a balance between recreational enjoyment and environmental stewardship," said Todd Wernex, IDL recreation program manager. "We believe that by equipping recreationists with the right information, we can foster a culture of responsible outdoor exploration."
More than 96% of endowment land in Idaho is accessible by foot, watercraft, or motor vehicle, with about 2.4 million acres available for hunting, fishing, hiking, camping, or other recreation.
The Idaho Board of Land Commissioners' (Land Board) policy allows the public recreational use of legally accessible endowment lands, as long as the recreational activities do not degrade the lands, interfere with management activities, or otherwise negatively affect the long-term financial return to endowment beneficiaries.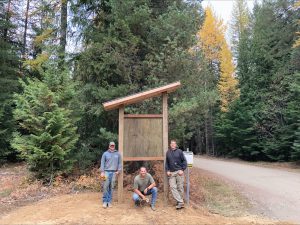 From left to right, Sean Hanley, IDPR trail cat operator, Todd Wernex, IDL Recreation Program Manger, Nate Sparks, IDPR North Idaho trails specialist with the Ruby Creek Information Kiosk, Boundary County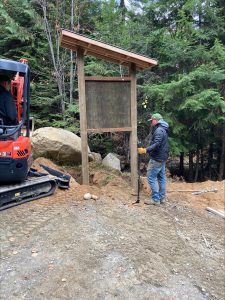 Sean Hanley, IDPR trail cat operator during installation of the kiosk at Falls Creek road gate on Stimson land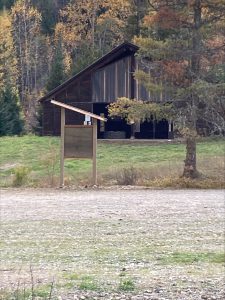 Kiosk at the Boundary County Fall Creek Snowmobile Warming Shelter