New Policy and Communications Chief Announced
Tuesday May 19, 2020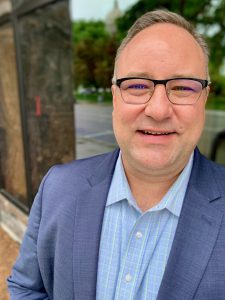 (BOISE) –Helping fund Idaho public education with Idaho Endowment Land revenue is a primary role of the Idaho Department of Lands (IDL), as mandated by the Idaho Constitution.  With that important duty in mind, Director Dustin Miller announced the hire of Scott Phillips as IDL's new Policy and Communications Chief. His first day was May 18.
Phillips previously served as the Communications Director for Superintendent of Public Instruction and State Board of Land Commissioners (Land Board) member Sherri Ybarra. He was also her Land Board representative.
"While we will miss Scott at the Idaho State Department of Education, I look forward to continuing to work with him in his new role," said Ybarra. "His depth of experience with Land Board members and public schools will be an incredible asset to the Idaho Department of Lands."
Phillips also served two Idaho state controllers on the Land Board and was a Deputy Chief of Staff for Governor Jim Risch. The Land Board is made up of Idaho's top five elected officials and provides direction to the Idaho Department of Lands.
"We strive for excellence in managing endowment land, and work to build consensus among diverse groups of stakeholders, including elected leaders, local governments, and the general public," said Miller. "Scott has already served on the front lines of endowment land policy and brings proven leadership to his new position."
Phillips will oversee IDL's external communications and legislative affairs and coordinate IDL's policy development and rule-making activities, among many other responsibilities.
"This is a once-in-a-lifetime opportunity," said Phillips. "I grew up in Orofino and my family owned a logging company. I have lived my life with a deep-rooted appreciation for Idaho's natural resources and the important role logging plays in creating jobs, materials, along with helping schoolchildren. I am committed to bringing all the right people to the table in how we best serve Idaho and our endowment beneficiaries."
IDL also manages the lands beneath Idaho's navigable waterways including riverbeds and the beds and banks of Idaho's navigable lakes and provides regulatory oversight of forestry practices and some regulation of Idaho's mining industry. Funding for beneficiaries, which also includes state veterans homes and hospitals for the mentally ill, also comes from the Idaho Endowment Fund.
###
NEWS MEDIA CONTACT:
Robbie Johnson, Public Information Officer, (208) 334-0236 or pio@idl.idaho.gov