Record-breaking amount of wildfire supply returns coming into Idaho Fire Cache
Tuesday September 21, 2021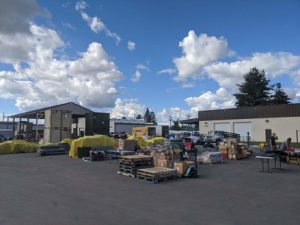 (Coeur d'Alene, Idaho) - This is expected to be a record-breaking year for equipment issued and returned to the Idaho Department of Lands Coeur d'Alene Interagency Fire Cache. Notable fires that were issued equipment in the region include the Character Complex, Walker Creek Fire, Stateline Complex, Trestle Creek Complex, Leland Complex, Snake River Complex, and the Cougar Rock Complex.
Many of the items that come back to the Fire Cache can be used for future fires after they are refurbished. Unused items can go back into the stockpile. The returning of equipment means fire costs associated with the supplies can be refunded, which reduces fire expenses and benefits taxpayers.
Items include saws, pumps, yurts, tables, chairs, and lots and lots of hose.
Items that can't be reused are offered up as state surplus and are often sold through auction back to taxpayers: Surplus website.
"The additional people we hired on this year are busy assisting with washing hose, boxing up supplies, loading and offloading trucks, pressure-testing water handling equipment, refurbishing firefighting equipment and much more," said Bjorn Jordan, IDL Program Manager in the Fire Cache. "It will take some time, but we will get everything processed."
Crews battling wildfires across the region depend upon the Fire Cache and Idaho Department of Land's staff for wildland firefighting equipment and supplies. Twice this season the call for help was made for additional employees to assist during this historic fire season.