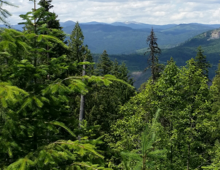 The IDL employs hundreds of forestry-related professionals. Our foresters manage timber assets on endowment trust forest lands to grow, harvest, and replant trees to ensure we protect this renewable resource. A large portion of the annual income for the endowment trusts is derived from the sale and harvest of timber.
Forestry Assistance
Our Private Forestry Specialists provide assistance to landowners and harvest operators to keep private forests healthy and in compliance with forest protection laws.
The IDL forestry assistance professionals provide technical assistance to forest landowners, other IDL programs and local, state and federal officials.
These specialists in forest management, entomology, pathology, fisheries and wildlife biology, hydrology, geotechnical engineering and community forestry advise and assist urban and rural forest landowners in the responsible management of forest resources and enforce the policies set forth by the Idaho Forest Practices Act, which regulates forest operations within Idaho.
Updates
Radio ads – State Forester:
Forester Forums – short informational publications covering various aspects of forest management practices
Video: Tree Flu Shot